+ Before you take off on your trip, purge your wallet of all unnecessary cards (library cards, gift cards, Blockbuster, etc.) and leave them at home. Better yet, use a different wallet for your trip and selectively and consciously put items you need (ATM card, credit card, insurance information, driver's license if you'll be renting a car) into it. Not only does this lighten the weight, it also minimizes the costs and hassle should your wallet be lost or stolen.
+ Speaking of petty theft, many travelers already know that keeping your valuables in a difficult-to-reach place helps protect them from pickpockets.
If they don't know where you're keeping your money, they can't steal it, right? Two more useful tools in the fight against five-finger losses: 1) a plastic bus pass holder for your transportation tickets and 2) a coin purse. Instead of pulling out your entire wallet, simply flash your pass or use the coins (or small bills) in the coin purse to pay for most of your daily transactions. Keeping these items separate keeps your wallet more secure!
+ Universities are a great resource for a no-budget traveler. Head to the library for free internet access, photocopiers, and lockers where you might stash your luggage. When desperate, head there for free bathrooms and taps to fill your water bottle. During the daytime, the university's cafeterias offer inexpensive hot meals.  If you need assistance, university staff and students are the native population most likely to speak English well.
+ Still thirsty? During working hours, many banks offer water coolers in their lobby, with both hot and cold varieties available.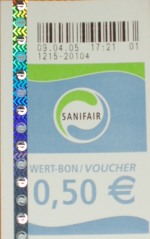 + Traveling on the German Autobahn, you will soon discover that the restrooms at rest stops are monopolized by a company called Sanifair. Your 50-cent admission purchases a coupon that not only gets you in and out of the turnstiles to the toilet but also grants you a face-value discount on any purchase at the rest area. These coupons are good for one year and fully transferable, so save them up or pool the tickets from your travel group to purchase meals, drinks and snacks for free!
+ Didn't find one postcard for sale in the small town you visited, or simply didn't have a chance to pick some up? Head to the post office; they almost always have local postcards for sale, and while their selection is generally limited, it is better than nothing when your loved ones are expecting mail! Bonus is the post office can also sell you the appropriate postage at the same time.
Thanks to Megan for help with this list!
Looking for further tips?
Random Travel Tips #1
Random Travel Tips #2